Tamara & Courtney
Hoping to Adopt
(Texas)
Posts
Groomsman
I had the best looking groomsman as my date last night to our friends wedding.
Iced Tea
Nothing is better than an ice tea on a hot day of shopping. It's suppose to reach 108 degrees today. Then tonight Courtney's in a friends wedding it's going to get warm.
Tball Games
We went to watch our nephew play two Tball games. He did an amazing job but it was also hilarious watching these 4-5 years old. Some understood what was happening on the field while others played in the dirt. It was adorable! We love watching and supporting the young kids in something they enjoy. Bonus he hit his first home run!
Sunset Dinner
We ended our Florida vacation with a beautiful sunset dinner. We got to sit right on the water and enjoy our evening.
MLB Stadium Checked Off
Tamara surprised me awhile back with Tampa Bay Rays tickets for when we were in Florida. My goal is to visit all the MLB stadiums. I now can check off Tropicana Field. I cannot wait to share these experiences with a child one day.
Salt & Sand
Hello Florida! We're spending the day on the beach. The water and weather is perfect. Nothing says weekend vacation like laying on the white sand and the smell of the salty air.
Graduation Day
Our niece graduated tonight! It's hard to believe she is old enough and finished with high school. We're so proud of her! She will also be cheering in college and we can't wait to go watch her. I know she will do amazing things.
Graduation Party
Our oldest niece on Courtney's side of the family had a graduation party tonight. We definitely love when get to take one our younger nephews from Tamara's side with us to celebrate. Family is everything to us! Love all around.
10th Annual Chute-Out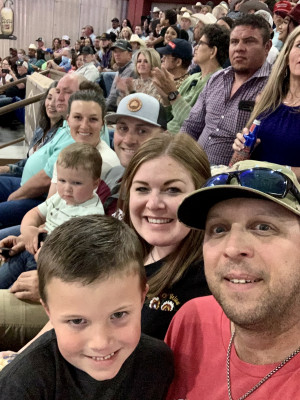 We went to the 10th annual Chute-Out at the San Angelo Rodeo. We have attended ever year since they started the Chute-Out. We love doing things like this with both our families.
San Angelo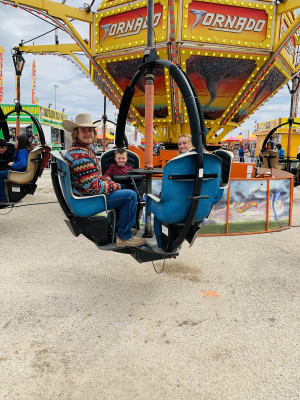 This past weekend Tamara and I took one of our younger nephews to the carnival and rodeo in San Angelo, Texas. We met up with my family. I loved spending time with my parents, sister, brother in law, nephew and niece. We spent all weekend together. Watching my nephews and niece ride the rides were my favorite part.
Hotel Turkey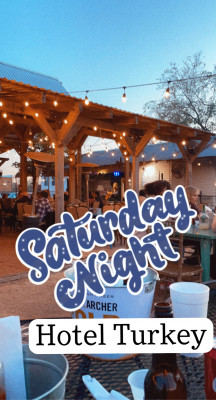 Last night we met some of our friends and their kids at Hotel Turkey. We enjoyed the company, live music on the patio and the steak.
Christ has Risen!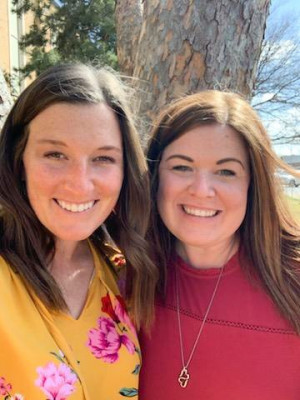 I spent Easter weekend with my family celebrating Jesus' resurrection. We spent time together cooking, hunting Easter Eggs, visiting with family members from Kansas and Mississippi we have not since in a while, and my favorite celebrating the empty tomb at church Sunday morning. After church we sat down as a family to large lunch and then spent some time out at the ranch fishing. We did however missed Courtney. He stayed at home to be with his family this Easter weekend. I know he enjoyed being with his mom, dad and grandparents. The picture is of my sister and I Sunday morning after church. - Tamara
Color Run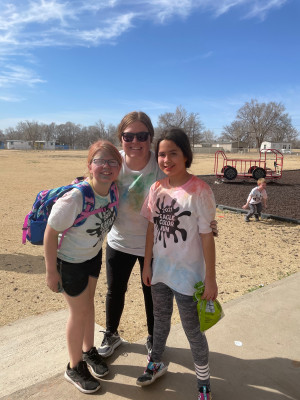 At the school I work we have a Color Run. The teachers, students, staff and parents can participate in an one mile run around the school. You get to throw powder paint and run through it. Everyone leaves looking like a rainbow. We do this to start our Spring Break. Here is a picture of my with two of my students. I'll add a couple to my photo albums as well.
Planting Season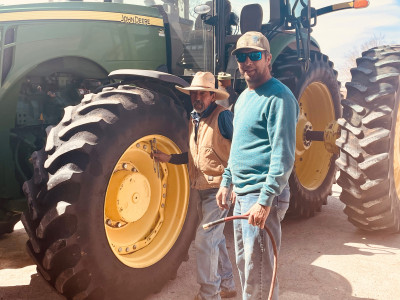 Here at my service station, one of my biggest customers are farmers. Planting season is right around the corner. Me and Pops are working hard to get the tractor's tires ready. Pops has worked for my family for 47 years and is like my uncle.
Homemade Cookies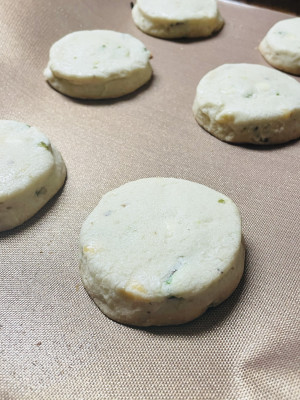 Sometimes you just have a craving for a fresh batch of cookies. Our week night ended with these warm white chocolate pistachio cookies.
Weekend Fun!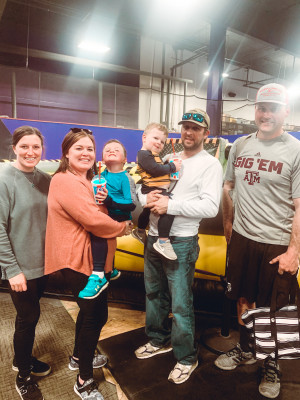 We spent Saturday in Lubbock with some of our favorite people. Nothing is better than getting out and about after 4 days of being cooped up from freezing temperatures. Trampoline park, shopping and a dinner date.
Snowed In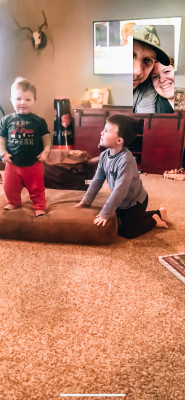 When everyone is stuck indoors we get to chat with our little nephews. They love playing and showing us new things they can do or came up with. Snow days are great but not when it's in the single digits.
Winter Wonderland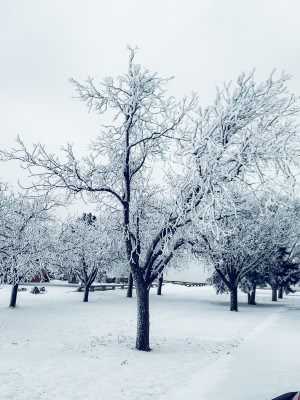 I'm sure you've seen on the news or heard from someone that Texas is under a major winter storm. We lost power and water so we've been in a hotel for 3 days. I when I was little I thought it would be awesome to live in a hotel and now I'm just ready for my house, regular work days and a home cooked meal. I cannot complain God's handy work has some beauty in it. Go look at our pictures from the ranch my sister sent and of ice covered trees.
Throw Back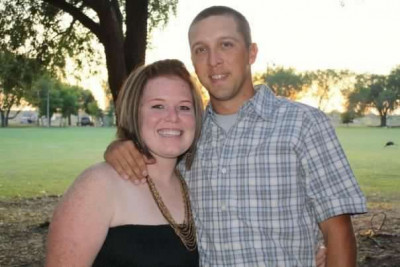 I was going through our pictures and came across the first picture we took together, August 2009.
Portrait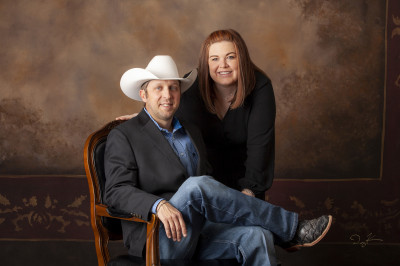 Our portrait came in! We couldn't be more proud of how it turned out. We cannot wait to get another one taken with a precious baby in our arms to love and care for.
Portrait Time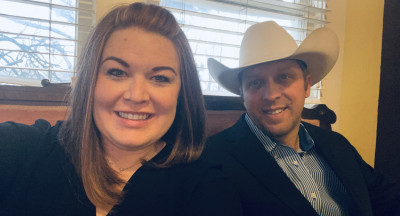 We won portraits by Davy Knapps in Amarillo, TX. We cannot wait to share how these turnout. They'll be beautiful museum quality portraits to hang in our home. We also get to come back once we adopt to do family portraits and of the baby. That way will be able to share it with you.
Weekend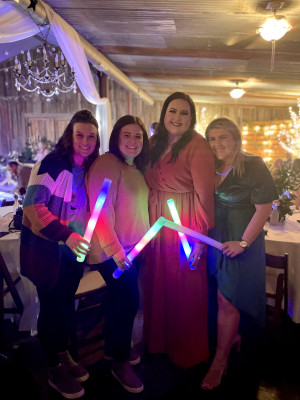 This weekend we enjoyed our step-cousins wedding. It was definitely a cold January wedding with beautiful greenery and the snow that still lingering around. It was full of family, friends and fun. We danced, ate and played with glow sticks. All during this fun Courtney and our brother-in-law went hunting instead of enjoying this wedding fun.
Snow Day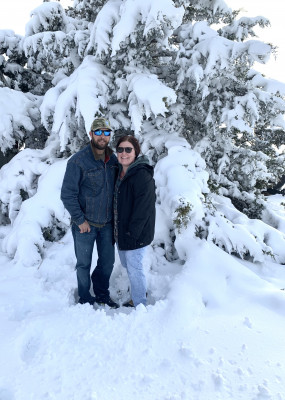 We welcomed 7 inches of snow at home Saturday night and Sunday morning. Please go check out our album.
Downtown San Angelo
We're spending Saturday morning downtown San Angelo. We have been shopping and now enjoying lunch. We had hand tossed pizza and homemade Italian cream sodas.
Happy New Year!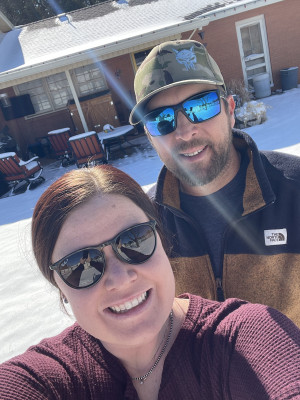 We rang in the new year with some fresh snow. It was beautiful last night while it was falling. We're happy to see some still lingering around this morning. Goodbye 2020 and Hello 2021.
Holidays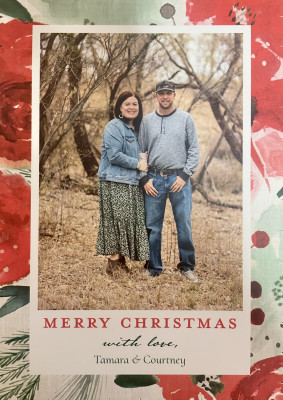 Our Christmas Holiday was full of family fun, many presents and lots of time on the road. We're blessed with the most loving families. Merry Christmas and Happy New Year! Hope you like our holiday card. ❤️
Star of Bethlehem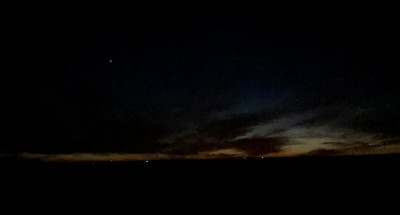 We spend this evening star gazing. We watched the especially bright planetary conjunction of Jupiter and Saturn to create the Christmas Star. What a site it was to see. Hopefully you'll be able to see the bright light on the left side of the picture.
Tis the Season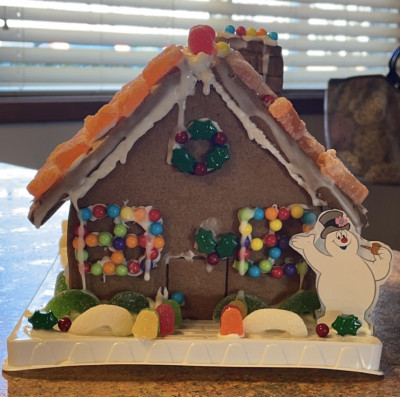 We made a Gingerbread House
Late Night Calls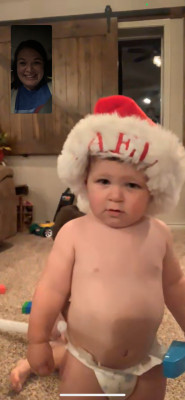 Nothing makes a Monday night better than a facetime call from your little nephew. He wanted to show us his Santa hat. It was to cute not to share today!
Nursery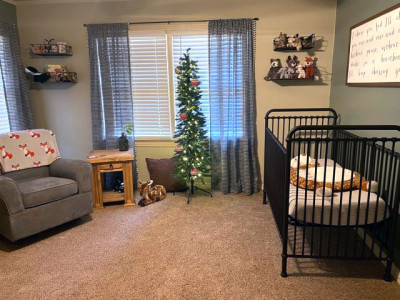 I posted back during April that we put our nursery together. I just wanted to share the little Christmas tree we added to it during the holiday season. We know that one day we will get to celebrate Christmas with a little one.
Thanksgiving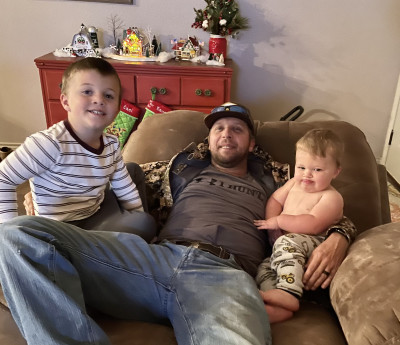 We spent the last four days with both of our families for Thanksgiving. We ate traditional thanksgiving food on both sides. We caught up family members and enjoyed each other's company. Then we helped everyone put their Christmas decorations up to enjoy this holiday season. We cannot wait to share our families traditions with a little one and to create our own.
it's beginning to....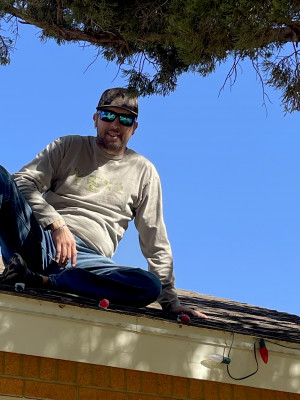 It's beginning to look a lot like Christmas around here. Courtney put the Christmas light on our house while we had nice warm weather. This is our favorite time of year. We love spending the holidays with family and friends alike.
Wide Open
We love spending time at Tamara's family ranch. Nothing beats an early morning with cows, wild animals and beautiful a sunrise.
80th Birthday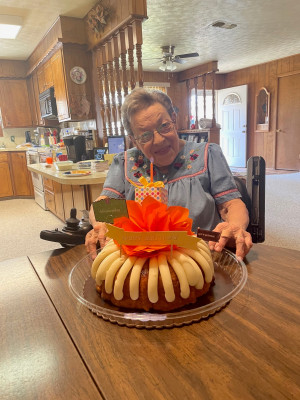 Last week we celebrated Courtney's grandmothers 80th birthday. We did not get to have a large party but we did let her know how special she is to us.
Green Tomatoes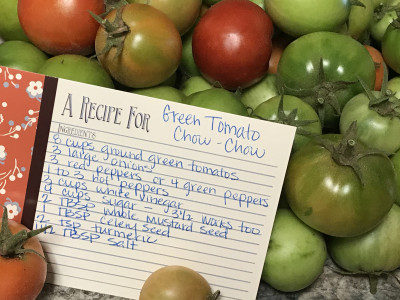 We're suppose to get our first freeze tonight. So Courtney picked what left in our garden. We had a ton of green tomatoes and peppers. So we decided to make Green Tomato Chow-Chow. We make this once a year to share with our family and friends. It's something we can to enjoy throughout the entire year.Have a great day!
Pumpkins!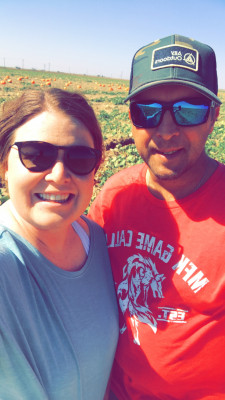 On our drive home today we decided to take a small detour to the pumpkin patch. It doesn't get much better then walking through the field picking out your own pumpkins and haulIng them home. We picked out many different types of pumpkins for our front porch. Happy Sunday!
Colorado Trip!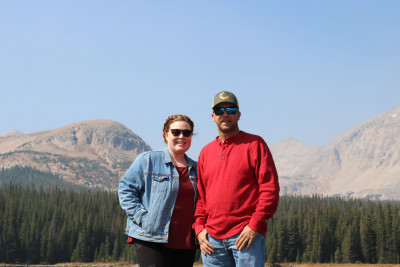 I surprised Courtney with a vacation for our anniversary. We spent a couple of days in and around Denver, Colorado. We spent an afternoon downtown Denver experiencing the food and local attractions. Also, Courtney is a huge baseball fan so we walked around the Coors Field home of the Rockies. He can check that off his bucket list of MLB stadiums to see. Courtney and I also drove and hiked around the Red Rocks Park and Amphitheatre. We could not believe the amount of steps that place has. Then our last full day we drove into the mountains to hike, fish and explore. We hiked almost 10 miles up, down and all around the Roosevelt National Forest. We loved everything about it and we are already planning to go back one day. We cannot wait to share our trips like this with a child. Please check out our photos to see some of the things we did in Colorado.
Home Grown
Courtney has planted a small garden every year since we have been married. This is the year of peppers for sure. We have other vegetables but we're picking 15-20 different types of peppers every two days. So our evenings have been spent making hot sauce and chow-chow. Courtney definitely has a green thumb. #veggies #squash&zucchini #peppers #okra #lonertomato #peaches
Our Nephew Turns One!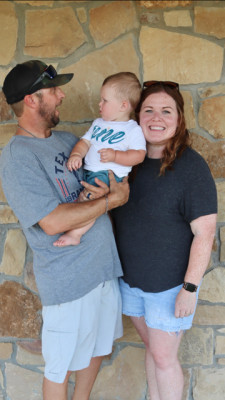 We celebrated our nephews first birthday this weekend. He is the sweetest little boy and was defiantly one happy camper. He loved his birthday cookies but wasn't sure about getting his own cake. We all thought he would love to smash it but he just looked at it. This is so funny to us because he loves food. Here is picture of him giving his crazy uncle one of his many looks. He as the biggest personality and loves making faces at everyone including his duck face. haha!
Jellystone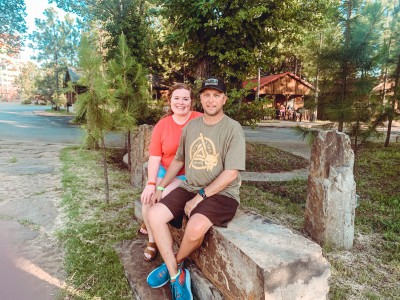 We spent three days at Jellystone in Burleson, Tx with our family. We floated on the lazy river, rode water slides and played on the pirate ship with our nephews. Then spent the evenings fishing and sitting around the campfire. We loved our little getaway.
Lake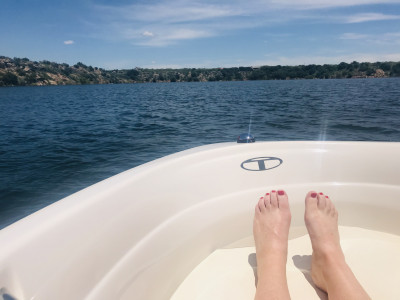 We spent the day out on the water! Nothing like enjoying the day at the lake with our family.
Pool Side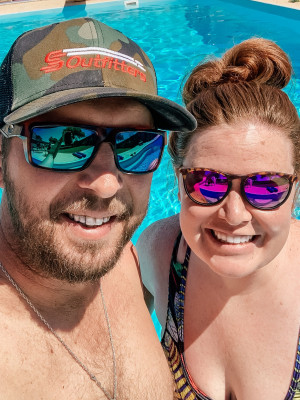 We have been loving this warm weather and spending time outside is one of our favorite things to do. Since it was nice and hot we spent all day Saturday and Sunday hanging out in the pool. It was great soaking up some much needed sunshine.
Back to Nature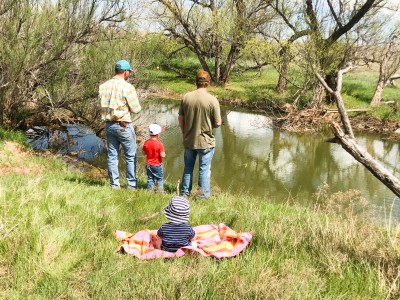 Since we haven't got to travel or go anywhere we decided to take a couple days off and enjoy nature. We decided to go to the ranch and hangout with our nephews and their parents. We hiked and went fishing. It was nice not being cooped up in the house because of COVID-19. Hope you all are staying safe.
Nursery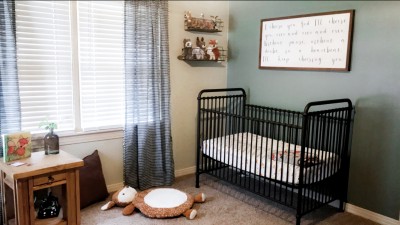 Since I cannot go to work right now due to the COVID19 virus. I have decided to finish up the nursery. I started it awhile back but it's been hard for me to finish. It now brightens my day knowing that one day a child will get to enjoy this sweet room and be able to call it their own. Since we're open to a boy or girl we decided on a traditional green with woodland animals. Hopefully you'll love it as much as we do. -Tamara
Before the Quarantine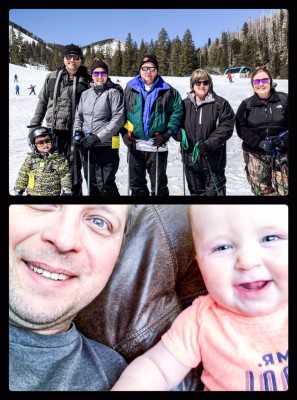 Before the quarantine back early March we were able to go to the mountains for a couple of days. It was nice to get out an enjoy some fresh mountain air. I went skiing with my family while Courtney stayed at the cabin to babysit our 7 month old nephew. He would rather babysit than ski anyway. To top off our skiing my 3 year old nephew was able to ski on his own. I was so excited to be there to experience this first with him. Hope everyone is staying safe and healthy! - Tamara
Lubbock Bound!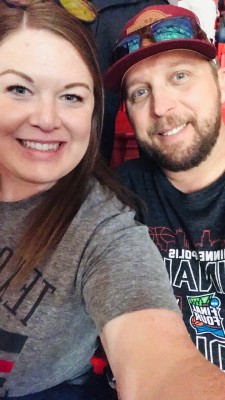 This weekend we drove to Lubbock, Texas to enjoy a little basketball. Courtney got me tickets to my Alma Mater, Texas Tech to watch a Men's Basketball game. We haven't gone to a game in a while, so I was beyond excited. Even though they lost in the last minute we loved every bit of it.
Our Home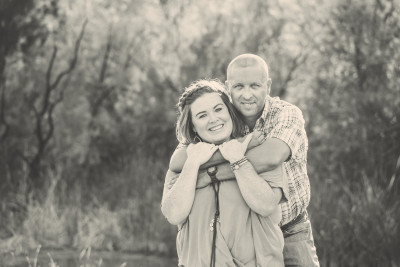 Our house is a three bedroom and two bath. We have a large living room and a long narrow dining room. Which is great for our long dining room table. We love to cook so it's perfect for us. We have a massive backyard for living in town. We have several large trees to hopefully have swings under one day. Also, we have a spot in the backyard for a garden. Courtney loves having a garden, where we can get our own fresh vegetables during the summer and fall.
Our Wedding (Told By Tamara)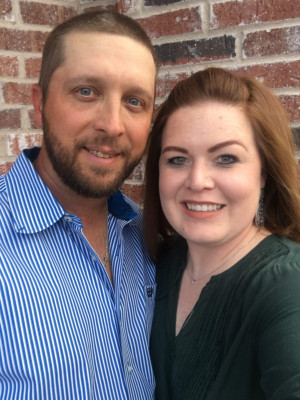 We got married in early fall at my grandparent's ranch. Our wedding was in their backyard beside the pool. This is the exact same place my parents got married thirty- two years ago. It was always my dream to get married there too. It was a beautiful fall afternoon and it was the greenest the ranch had been in many years. It was not a big wedding. We only had close friends and family attend. We just wanted two families to come and have fun for our special day.